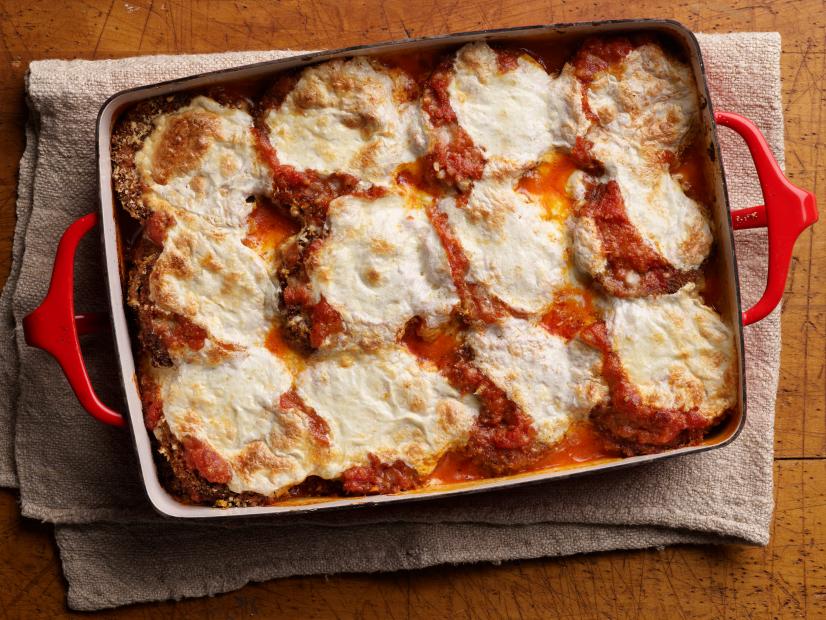 Ingredients:
1 large eggplant
4 eggs
4 cups of gluten free Italian style breadcrumbs (I use a combination of
Aleia's GF Italian breadcrumbs
,
Aleia's plain
or
4C plain GF breadcrumbs
, and
Watusee chickpea GF breadcrumb
s)
corn oil (enough for frying)
a jar of marinara sauce (the best is when I have enough homemade to use, but a close second is
Rao's eggplant marinara
; for everyday use, I just use the
Wegman's tomato basil sauce
.)
shredded parmesan cheese
mozzarella cheese (I prefer the small balls, ovoline or ciliegine)
Heat the oil over medium heat and preheat the oven to 350 degrees.
Slice the eggplant to the thickness that you like.
Create an egg wash by whisking together the eggs.
Dip the eggplant slices in breadcrumbs, then egg wash, then another breadcrumbs. Drop the eggplant in the hot oil and fry on each side until lightly browned, approximately 1 minute on each side. Do not overcook the eggplant.
In a large, baking disk, place a thin layer of sauce. As the eggplant is fried, remove it to the baking dish (do not drain). Arrange the eggplant in a single layer. Pour over sauce to cover and place a mozzarella ball over each piece (more if desired). Create a second layer of eggplant and cover with sauce and cheese. Sprinkle the Parmesan cheese over the very top.
Bake for 25-30 minutes, until the cheese is melted, bubbly, and lightly browned.
****We enjoy serving this with pasta and garlic bread or, alternately, with sweet corn muffins and asparagus. It also makes a great accompaniment to polenta and spinach florentine.*****